My Blog
Posts for tag: nutrition
By River Oaks Family Dental & Orthodontics
December 11, 2017
Although oral cancer isn't the most prevalent among metabolic diseases, it is one of the most deadly with only a 50% survival rate after five years. That's because it can be difficult to detect in its early stages when treatment is most effective.
That's why prevention to reduce your chances of oral cancer is so important. Many people know quitting tobacco products, including smokeless varieties, and moderating alcohol consumption are key to any prevention strategy. But there's one other factor you should also consider: your diet.
We've learned quite a bit in the last few decades about how certain foods we eat contribute to the cancer disease process. Cancer seems to originate when elements in the body or environment (known as carcinogens) damage DNA, our unique genetic code, on the cellular level. For example, a class of chemicals called nitrosamines is a known carcinogen: we often encounter it in the form of nitrites used to preserve meat (like bacon or ham) or as byproducts in beer, seafood or cheese.
Another form of carcinogen is the unstable molecules produced during normal cellular function called free radicals. But our bodies have a natural neutralizer for free radicals called antioxidants. We obtain these substances in our food in the form of vitamins and minerals. While you can also ingest these in the form of supplements, the best way to obtain them is through a diet rich in plant-based food, particularly fruits and vegetables.
So in addition to lifestyle changes like quitting tobacco or moderating alcohol consumption, make sure your diet is a healthy and nutritious one. Limit your intake of processed foods (especially meats) and increase your portions of fresh fruits, vegetables and dairy products.
And don't neglect practicing effective brushing and flossing each day, along with regular dental cleanings and checkups. All of these healthy practices will greatly decrease your chances for life-threatening oral cancer.
If you would like more information on preventing oral cancer, please contact us or schedule an appointment for a consultation. You can also learn more about this topic by reading the Dear Doctor magazine article "Diet and Prevention of Oral Cancer."
By River Oaks Family Dental & Orthodontics
October 19, 2017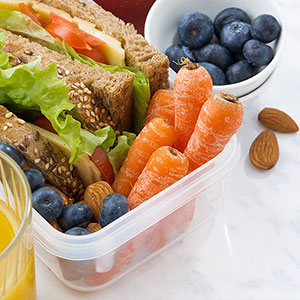 The food we eat not only provides us energy, but it also supplies nutrients to help the body remain healthy. The most important of these nutrients are minerals and tiny organic compounds called vitamins.
While all of the thirteen known vitamins and eleven minerals play a role in overall health, a few are especially important for your mouth. For example, vitamins D and K and the minerals calcium and phosphorus are essential for strong teeth. Another mineral, fluoride, helps fortify enamel, which can deter tooth decay.
Other vitamins and minerals serve as antioxidants, protecting us against molecules called free radicals that can damage cellular DNA and increasing our risk of cancer (including oral). Vitamins C and E and the mineral selenium fall into this category, as well as zinc for DNA repair.
We acquire these nutrients primarily in the foods we eat. But for certain people like older adults or pregnant or nursing women a healthy diet may not be enough. Any person who can't get enough of a particular vitamin or mineral should take a supplement to round out their nutritional needs.
If you don't have a condition that results in a nutrient deficiency, you may not see that much benefit from taking a supplement. In fact, taking too much of a dietary supplement could harm your health. For example, some studies have shown ingesting too much supplemental Vitamin E could increase the risk of heart failure or gastrointestinal cancer. And some dietary supplements can interact poorly with drugs like blood thinners or ibuprofen.
The best way to get the vitamins and minerals your body — and mouth — needs is to eat a healthy diet. Dairy products like fortified milk are a good way to get vitamin D, as well as calcium and phosphorus. Fruits and vegetables are a good source of Vitamin C. And while you can take in fluoride from toothpaste or other oral hygiene products, you'll also find it in seafood and tea.
While good oral hygiene and regular dental visits are necessary for dental health, your diet can also make a difference. Be sure you're getting all the nutrients your teeth and gums need.
If you would like more information on the role of diet in oral health, please contact us or schedule an appointment for a consultation. You can also learn more about this topic by reading the Dear Doctor magazine article "Vitamins & Dietary Supplements."
By River Oaks Family Dental & Orthodontics
June 13, 2017
Energy drink makers would have you believe their products are a healthy rehydration choice for athletes while also giving them keener focus and renewed vitality. But before adding them to your sports regimen, you should also consider what effect these beverages could have on your teeth.
Energy drinks are similar in ingredients to sports drinks like Gatorade® and PowerAde®, which mostly consist of water, salts, vitamins, sugars and acids. In addition, energy drinks like Red Bull® and Monster Energy® add caffeine to boost energy.
Besides their sugar content, the main threat from a dental health perspective for both of these drinks is their acidity, which can severely erode tooth enamel. The irreplaceable loss of enamel significantly increases your risk of tooth decay and eventually tooth loss.
The threat of enamel erosion is especially pronounced whenever the mouth's pH level falls below 5.5. The acidity of both sports and energy drinks falls well below this mark. In one experimental study samples of enamel exposed to a number of sports drinks lost an average of 1.5% of mineral content over five days; energy drinks more than doubled that loss at 3.1%.
Given the potential harm these beverages, especially energy drinks, can cause your teeth, you should exercise caution when consuming them. In fact, our best advice is for you to avoid energy drinks altogether, for your overall health as well as your teeth's sake.
Unless you're participating in a physically intense sport, water is your best source for hydration after exertion. Â If you do drink sports beverages, try to limit them to meal times when your saliva is most active to neutralize mouth acid. You can also rinse out your mouth with water after drinking to help further reduce mouth acidity.
As an athlete, you've trained your body to be at its optimum physical peak. Don't let energy or sports drinks take the edge off your health, especially your teeth.
If you would like more information on the effects of sports or energy drinks on dental health, please contact us or schedule an appointment for a consultation. You can also learn more about this topic by reading the Dear Doctor magazine article "Sports and Energy Beverages Bathe Teeth in Erosive Acids."